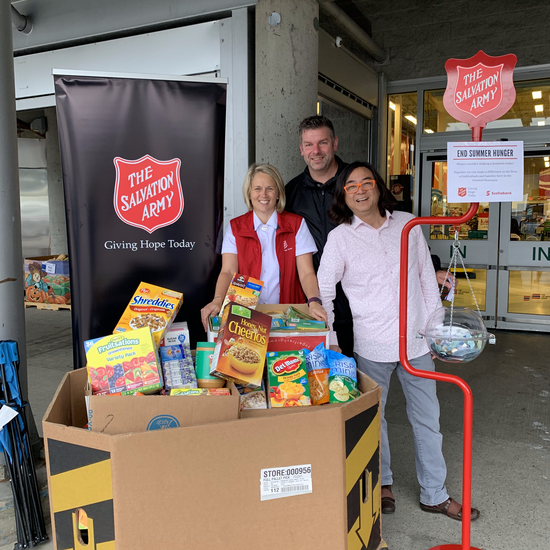 24 Sep

End Summer Hunger Success!
For those who may have been out and about on Sunday, September 15 2019, you may have noticed a gathering of folks cheering "Woo's" in the entrance of the Save-On-Foods on the Westside. While this group was very eager to celebrate the excitement that is grocery shopping, more particularly this group was cheering on donors from the community giving back and contributing financial donations and kids snacks to the End Summer Hunger Food Drive.

This food drive was held to raise funds and  food in support for families West Bank of the Greater Westside. Event organizer, Francis Cheng shares, "This event was born out of a need arising for children that were not getting enough food in their bellies outside of school hours."
The Westside Salvation Army has opened its doors to the community and is now providing services to individuals and families for a variety of different needs. They operate these services out of the Community Life Centre (CLC).  One program of the CLC is the Supportive Food Bank (SFB). The Westside Salvation Army (WKSA) shares that the food and monetary donations from the End Summer Hunger Food Drive will go directly to service those who access their Food Bank. Salvation Army's Supportive Food Bank provides food to individuals and families in urgent need as well as ongoing need. As the WSSA continues to grow their hope is to connect with community partners in order to make the optimal use of resources and bridge gaps in service on The Greater Westside.
As a supportive food bank, The WKSA is here to help fill the gaps that still exist for individuals and families as it relates to food, even after they have visited the primary food bank, Central Okanagan Food Bank. The WKSA is also able to support individuals and families with clothing and household needs.

End Summer Hunger 2019 was part of an overall food drive in the area across all 5 Save-On locations between the Westside and Kelowna. Event Organizer, Francis Cheng, coordinated all 5 food drives, with the support of Scotia bank volunteers and Save-On-Foods staff and other communities partners such as Post Net: Printing and Signs.

One Westside Salvation Army Officer, Rob Henson shared, "At this time of year families are struggling to stretch their dollar to restock their cupboards with snacks for their kids lunches.  With the community's help we will now be able to provide families with school age children a 'snack pack' containing juices boxes and school approved snacks.  It makes a big difference in these families lives."

The WKSA would like to thank all those who contributed to the event; the volunteers, the community partners, the donors and YOU. Without the support from those who contribute we would not be able to help those who may need our services. Thank you for sharing your stories, giving donations and taking part in our community.

We love you!

#CommunityforCommunityWKSA


If you supported this event and would like your logo to be included in this post; please contact hannah_merchant@can.salvationarmy.org.